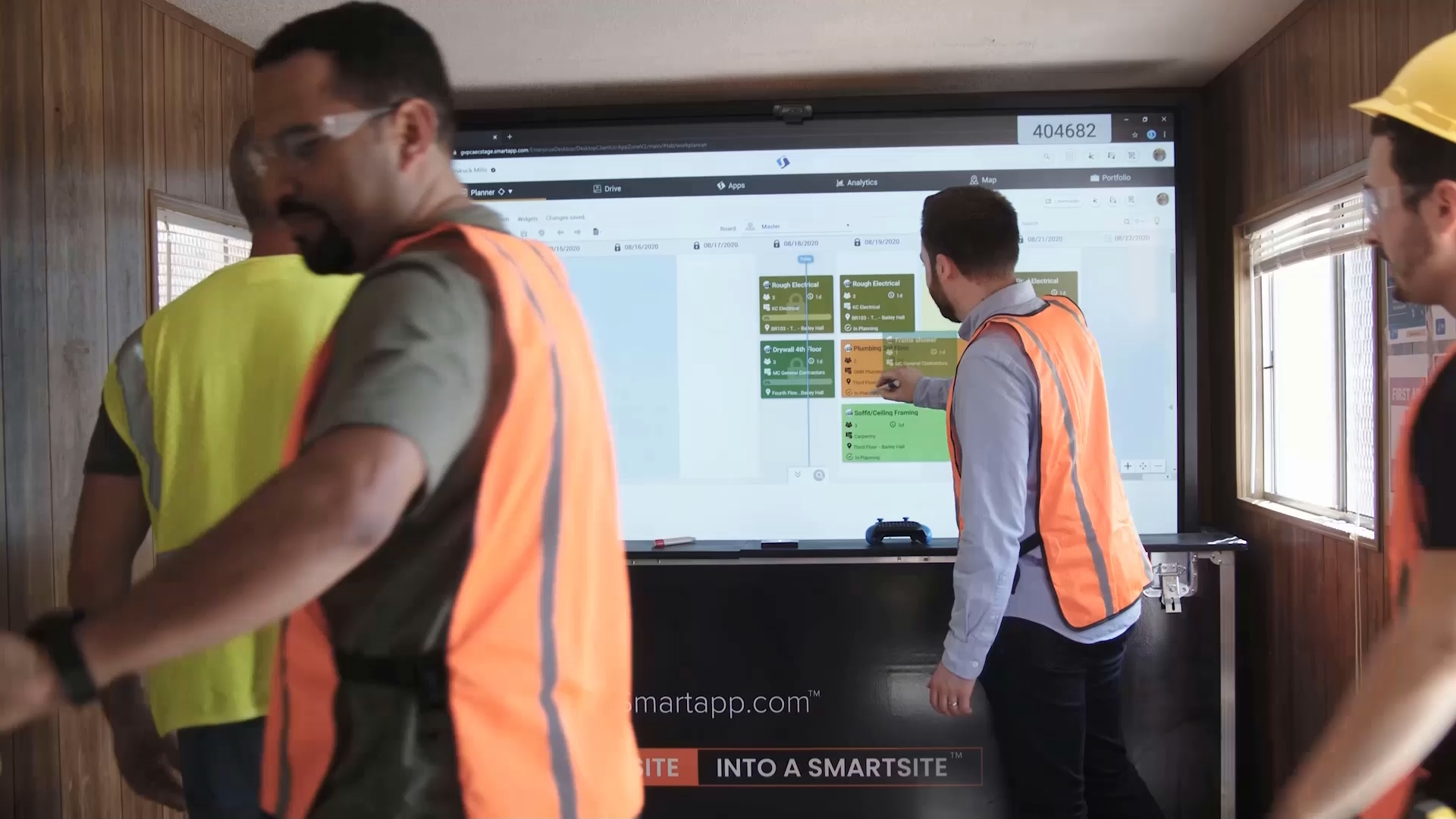 $295/month
Fixed per project
Building the schedule is only half the battle. Keeping it updated for everyone is the other half. PLANNER™ makes sure it's not even a battle at all. Explore the only enablement platform where agile planning becomes agile construction, and where your plan boards and CPM schedules are always aligned & up-to-date.
Unlimited

Unlimited

Unlimited

Unlimited
FEATURES
Plan
Multi-party real-time digital Plan Boards make it a breeze to organize and dispatch work. Whether you're on mobile or desktop, in the trailer or in the office, your project progress is always up-to-date.
Schedule
From Plan Boards to CPM schedules in just one click. Collaborate in a true multi-party real-time framework where schedule updates go straight to the field, and field updates go straight to the schedule; keeping your plan boards and schedules always in sync.
Dispatch
Dispatch work from your Plan Boards or CPM schedules with one click. Dispatched tasks go directly to every contractor's mobile device with real-time visibility into their workload. And with one click, they can send progress and completion updates from the field to their team in real-time.
Track
Real-time updates from the field automatically update plan boards and schedules. The team can easily add daily journals, impacts, and manpower information that populate company-level auto-generated daily reports and analytic visual dashboards.
Plan Boards

Pull Planning comes to digital life allowing you to Plan, Schedule and Dispatch work like never before. The power to plan work together in real time in the same room or from across the country has never been easier than with our multi-party drag & drop real-time Project Plan Boards.

CPM Schedules

Our CPM Gantt-based scheduling provides your project team all the power of leading scheduling tools like P6 or MS Project without the cost. Building schedules from scratch or automatically from your Plan Boards and keeping them up-to-date has never been easier than with our multi-party real-time schedules.

SwimLane Mode

SwimLane Mode is a unique feature that allows your Plan Boards to pivot and organize work tags into interactive SwimLanes that give your team the power to easily drag & update work tags across Lanes in real time.

Suggest & Assist AI

Building Plan Boards & CPM Schedules is no easy task, but we make it easier by leveraging the power of all your past projects via our Suggest & Assist AI engine so that while you're typing & adding items, we are always suggesting to you the other critical Work Tags & Tasks to make your Boards & Schedules complete.

Planning Simulator

With our AI-based simulator you can set up templates to quickly model what-if scenarios and develop comprehensive predictive analytic models of what your project execution may look like, giving you the power to adjust in advance the variables that impact your project the most.

Mobile Work Queue

Keep your CPM Schedules & Boards up-to date by giving your team the power to send updates back from the jobsite. Our Mobile Work Queue gives all team members an easy-to-use burn down list of Work assigned to them, and with one click they can send real-time updates back to Project Schedules & Boards.

Constraints & Issues

All projects have surprises, but tracking them and their impacts should not be one of them. With our built-in Constraint & Issue logging & tracking features, your team will never lose track of them.

AUTOGEN Daily Reports

You dispatched the work, team members have logged their real-time updates, entered their man power data, and logged their daily journal entries. Now let Smartapp auto-generate each company's Daily Report and route it for review, approval and records.

Daily Report Center

One place to view, find, review, and print your entire project's accumulation of Daily Reports for all your team members and their respective companies. Securely accessible to each team member on Mobile or Desktop devices.

Built-in Reports

Our comprehensive built-in reports allow your team to easily view and print the critical status reports you need from all your Project Schedules & Plan Boards. With our built-in reports you and your team never have to rely on yesterday's data to answer today's challenge.

Analytic Dashboards

Our comprehensive built-in Visual Analytics Dashboards allow your team to transform all that critical Scheduling & Progress data into real-time always up-to-date visually stunning interactive Graphs, Charts & table-based Dashboards.

TeamWork Calendar

Never lose track of what your team members are working on. With our universal TeamWork Calendars you can easily see team members' daily work calendars, their availabilities, and even dispatch them new work all from one universal place.

Time Tracking

You've done the work to plan your project, now comes time to track your team's actuals, progress, time and manpower. Our built-in time tracking features make tracking manpower & time logs for each Work item on any device (mobile or desktop) easier than ever before.
What's included?
All PLANNER™ features

PLANNER™ is packed with both standard and advanced planning features that ensure seamless execution on your jobsite.

View again

Pre-packaged Apps

PLANNER™ comes with pre-packaged integrated work tracking apps that are ready for you to use.
- Manpower
- Journal Entries
- Daily Impacts
- Work Task

See how

Add-ons & Connectors

Your Smartapp PLANNER™ edition comes with free connectors that keep your project data integrated with:

P6 ™

Procore ™

Microsoft Project ™

Gantter ™

Live Collaboration

Packed with real-time multi-party collaboration tools to ensure the team is always in sync and the work is always aligned.

LiveLink

One-click built-in project team live video calls connect members anytime. Jobsite mobile users can quickly share on-site issues from their device camera.

LiveChat

Quickly resolve issues on the fly with LiveChat and avoid costly delays. Instantly start LiveChats with online project team members from anywhere on any device.

LiveHuddle

LiveHuddle transforms your daily planning, progress & drawing review meetings into collaborative real-time "SmartBoard" experiences.

LiveSupport

We know your time is money and the help to get the job done should be at your fingertips. With our 24x7 LiveSupport Team, it always will be.